Now watch for free on the web!
Official Website
Now filming!
Ripped from Today's Headlines!

Had a TV on recently? Read a newspaper? Markets are in chaos, the economy is in freefall. People are losing their jobs, their houses, their security. The federal government is taking over banks and the President is going on TV trying to calm everyone down and telling them everything will be all right. Who could have predicted this?
Award-winning novelist and filmmaker, J. Neil Schulman, that's who, in his 1979 novel, Alongside Night.
Now J. Neil Schulman has completed a feature-length screen adaptation of Alongside Night which he will direct, with a planned release in 2012.
Profile in Silver Announced as 2014 Feature Film
(OPENPRESS) March 10, 2011 -- Jesulu Productions announced today that J. Neil Schulman's famous 1985 script, "Profile in Silver," will be the basis for its feature film production for a 2014 theatrical release with that same title.

In 1983 author/screenwriter, J. Neil Schulman, outlined a feature film titled "November 22, 1963," about a future history professor who time-travels back to Dallas on that date and prevents the assassination of President John F. Kennedy, creating an alternate time-line.

Schulman first submitted "November 22, 1963" to Herb and Rob Jaffe's Vista Films, to whom Schulman had just sold another screen treatment, "All the King's Horses."

In 1985 Schulman's writer friend, Alan Brennert -- now one of the writer-producers developing a revived Twilight Zone series for CBS -- commissioned Schulman to write "November 22, 1963" for the anthology series. Retitled "Profile in Silver" Schulman's script was broadcast March 7, 1986, on Episode 20 of The Twilight Zone, along with a second segment titled "Button, Button." "Button, Button" was remade as the 2009 Cameron Diaz / Frank Langella feature film, The Box.

Now Jesulu Productions is announcing that it is in development of a feature-length theatrical film based on Schulman's original outline for "November 22, 1963" to be titled "Profile in Silver."

The title is a reference to the 1964 Kennedy silver half dollar with a profile of the just slain JFK, which in the story is shown to a still-alive President Kennedy after the future history professor prevents JFK's assassination in Dallas.

"Profile in Silver" is one of J. Neil Schulman's best-known stories. There's a Wikipedia article on it. It plays in regular rotation on the Chiller Network and the Syfy Channel. It's included on the Twilight Zone series boxed-set DVDs. The original script is included in Schulman's 1999 book, Profile In Silver and Other Screenwritings. The episode has an average IMDb User rating of 8.7 out of 10.

J. Neil Schulman was the screenwriter/director/producer for Jesulu Productions 2008 suspense comedy feature, Lady Magdalene's, starring the original Star Trek's Lt. Uhura, Nichelle Nichols; and Schulman is currently in pre-production for Jesulu to direct his own screenplay adaptation of his highly-praised 1979 novel, Alongside Night, as a near-future action feature. Jesulu Productions is also in development of a feature film titled Escape from Heaven, which Schulman adapted from his 2002 novel of that title.

J. Neil Schulman will write a new screenplay for "Profile in Silver," and intends to direct it.

Dave Schwartz: Firsthand from the First Stand circles around an extensive HD video interview with 92-year-old David Schwartz, lead violist in Glenn Miller's Army Air Force Band, principal violist with the Cleveland Orchestra, member for seven seasons of NBC's orchestra for Sid Caesar's Your Show of Shows, and a Hollywood musician whose violia solos can be heard in The Godfather and many of John Williams's movie scores.


In this interview Dave Schwartz reminisces about his career and talks intimately about musicians, and other famous people he's met and worked with, including Glenn Miller, Benny Goodman, the Dorsey Brothers, Frank Sinatra, Bing Crosby, Louis Armstrong, Jascha Heifetz, Sergei Rachmaninoff, Clint Eastwood, Mel Brooks, George Burns, Sid Caesar, Steven Spielberg, and many others.


One section of our documentary focuses on Dave Schwartz's World War II experience with the Glenn Miller Army Air Force Band, from its formation through the end of World War II, and he speaks about Glenn Miller's disappearance over the English Channel in December 1944 as if it were yesterday.


Start Date: August 19, 2008
Currently in Production

Shooting Location: Santa Barbara Polo Club, Carpinteria, CA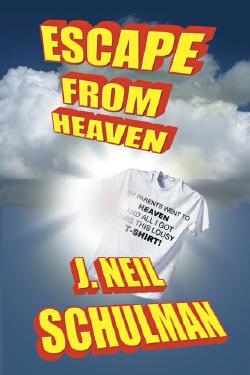 screenplay by J. Neil Schulman,
from his acclaimed novel
to be directed by
J. Neil Schulman
starring Nichelle Nichols
In this edgy and outrageous, but ultimately reverent, comedy, a top-rated radio talk show host is called to Heaven to meet God, buddies up with Jesus, and returns to earth on a mission to save Jesus from being seduced by Jesus' ex-wife, Satan, and manage Jesus' election campaign to win back the earth.
No Strings Attached

A young classical violinist injures his hand in a misunderstanding with airline security, and finds a new way to play violin with the help of a gorgeous rock diva, a maverick electronics engineer … and the ghost of his famous grandfather.
A Thing for Me

A 15-year-old girl is charged with murder and tried as an adult, leading to a legal wrangle over the arbitrary and capricious legal divisions between childhood and adulthood ... and a surprising turn of events.
Executive Producer:
J. Neil Schulman
Figure 8

With the help of an eccentric scientist, a geeky science-fiction fan travels back in time to meet a supermodel before her career begins ... and accidentally causes Al Gore to win the 2000 presidential election.
Anarquia
screenplay forthcoming
by Brad Linaweaver,
from the acclaimed alternate history novel by Brad Linaweaver and J. Kent Hastings
With the help of movie-star Hedy Lamarr, rocket-scientist Werner von Braun applies his talents during the Spanish Civil War to foil the evil plans of both Adolf Hitler and Joseph Stalin.
Jesulu Productions
150 S. Highway 160, Suite C-8, #234
Pahrump, NV 89048
(775) 751-0770
Email: production[at]jesulu.com